The world is changing in a way that makes money truly irrelevant, and it's time to face reality. We're entering the age of financial freedom! Follow these tips for making your life much easier as you enter this new era.,
SoFi is an online lender that has made financial independence a reality for many people. The company offers 17 ways to help you reach your goals.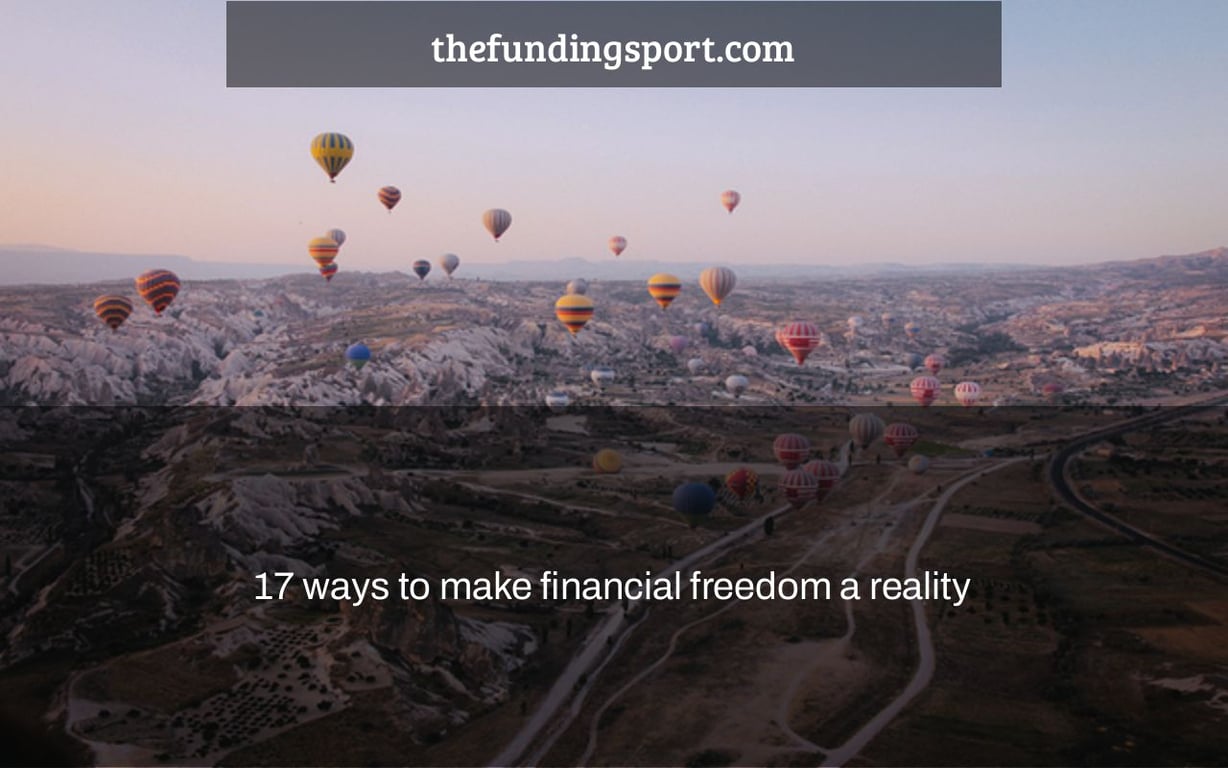 Have you ever fantasized about quitting your work and beginning a project you've always wanted to start? Alternatively, returning to school without taking out student loans? Or having the financial means to escape a toxic relationship or environment?
What if you could retire at 45 or 50 years old instead of 65 (or 80)? And once you've retired, would you devote your time to humanitarian work, raising your family, or hiding away in your mountain house with hundreds of books?
Each of these possibilities may be realized if you had the financial means to do so. Financial freedom is often characterized as having the financial wherewithal to do anything you choose.
We've put up a list of 17 strategies to achieve financial independence.
How much should I contribute to my 401(k)?
gradyreese is the author of this image.
What Exactly Is Financial Independence?
While everyone's notion of financial independence is different, it's commonly believed to mean being in a financial position to leave regular job. This is generally accomplished by generating revenue through investments or a company.
Having financial freedom essentially means you've achieved financial independence and can live well for the rest of your life without relying on conventional sources of income.
FIRE stands for "financial independence, retire early," and it is now gaining popularity. Members of the FIRE movement frequently invest a lot of time and effort into defining the parameters of their financial independence.
Whether or not you agree with the FIRE movement, the concept of financial freedom is valuable for anybody who wishes to leave the regular 9-5 job schedule, quit living paycheck-to-paycheck, or improve their financial situation.
Even individuals who merely desire a standard retirement should familiarize themselves with financial independence principles, since most people will be saving for their own retirements.
Financial independence is often attained by the accumulation of income-producing assets or the creation of revenue streams to meet your living expenditures. This is also known as "passive income," or money that is earned without requiring you to trade your time for a dollar. The objective is to cease exchanging money for time.
While it is possible to save enough money to live off of it indefinitely, this requires an enormous quantity of money to be saved – and not to run out. While you may strive for this, you may feel more comfortable establishing one or more income streams, particularly given inflation's corrosive effects.
It will take time to achieve financial independence. It is undoubtedly doable and within your grasp, but it will need the creation of a financial independence plan as well as budgeting with financial literacy.
DepositPhotos.com is the source of this image.
1. Identify Your Needs
Determining how much money you'll need to meet your bills if you attain financial independence is a smart first step toward financial freedom.
Determining what you need might seem like a changing target, yet it is critical for organizing your next moves.
Image courtesy of.
2. Look for new sources of income.
You may look for ways to generate additional revenue sources. Any property you possess, such as real estate, automobiles, tools, and appliances, may be used to generate income. You may either sell these products or look into renting them out for a consistent stream of fresh cash.
DepositPhotos.com is the source of this image.
3. Think about stocks.
The stock market may be utilized to create income whether you own individual equities or diversified stock funds (mutual funds or exchange-traded funds). It's helpful to realize that a stock might profit in two ways.
The first is via price appreciation, which is the increase in the value of a stock over time. The second way is to take advantage of dividend payments, which are cash distributions provided by certain (but not all) stocks and mutual funds.
Though stocks have historically provided a high rate of return, stock market returns are notoriously unpredictable, so you may want to conduct some study or contact a registered financial counselor before plunging in wholeheartedly as a plan for financial independence.
Pinkypills / istockphoto / Pinkypills / istockphoto / Pinkypills / istockphoto
4. Take into account bonds
Bonds may be used as a technique for increasing your wealth. Bonds are investments in a company's or government's debt, whether it's federal or municipal. You're effectively lending them your money, and they pay you an agreed-upon rate of return, known as interest, in exchange for their usage of it.
The amount you receive on a bond is likely to be determined by interest rates in the current economy. Bonds pay interest at regular times, such as twice a year, and may offer a constant source of income to holders.
DepositPhotos.com is the source of this image.
5. Take into account real estate leasing
Another approach to generate income is to invest in rental real estate, such as single-family houses and multi-family apartments. The purpose of rental property investment is to collect rent payments that provide cash flow above and above what is required to cover all of the expenditures of house ownership, such as a mortgage, property taxes, and property upkeep.
This method of generating passive income often relies on leveraging your financial position — taking on debt in order to generate a profit on borrowed money. If you pay cash for a rental property, you may have more peace of mind if you don't have any tenants for a while.
In this regard, investing in rental homes may be a dangerous proposition that requires extensive study on the process, best practices, and locating suitable properties.
DepositPhotos.com is the source of this image.
6. Earnings from a Passive Business
Though the term "passive income" has grown to mean a variety of various revenue sources, it may also refer to the wealth you might produce as a silent partner in a firm. You may generate passive income by giving private finance to a private firm in return for an ownership position in the company and a percentage of its revenues, for example. This allows you to invest in a firm without having to manage or monitor its operations on a day-to-day basis.
You may invest in private enterprises while working full-time somewhere else. Active enterprises may fall into the category of side jobs, which we'll discuss below as a means to supplement your income on the road to financial independence.
Unsplash user Artem Bali provided this image.
7. Recognize the need of financial literacy
Financial literacy refers to a person's ability or understanding in the area of personal finance. This requires a grasp of debt and the ability to budget. Financial literacy is the first step toward financial independence, and it encompasses how you save, spend, earn, borrow, invest, and protect your money.
DepositPhotos.com is the source of this image.
8. Overcome Mental Obstacles
You are absolutely not alone if you can't see yourself free of conventional job. This is not something we are often taught in schools or by our parents.
Examining your attitudes about money and labor may be one of the first steps on your path to financial independence. This may include delving deep into your feelings about ideas like worth, scarcity, and abundance. An activity like this might help you overcome any mental hurdles that are holding you back.
Chinnapong / istockphoto / Chinnapong / istockphoto / Chinnapong / istockphoto
9. Get rid of bad debt
Having a lot of debt might make it difficult to get out of debt. Debt decreases your total net worth by the amount of loans or lines of credit you have outstanding, but it also raises your monthly costs.
If you want to get out of debt, you should prioritize paying off high-interest debts like credit cards and school loans. You might attempt to negotiate a reduced interest rate on your loans to speed up the process.
It's worth remembering that a lower interest rate usually translates into a longer loan period. If you have student debts or a house loan, you may want to consider refinancing. For example, you may be able to cut your interest rate on credit card debt by phoning your credit card provider and negotiating better conditions.
Furthermore, you'll want to approach any additional debt with caution. Debt may undoubtedly be a beneficial instrument for achieving a long-term aim of wealth accumulation, such as utilizing loans to fund an education in order to get a better-paying job or as an investment in a company. However, debt may be overused, so don't take on more debt than you really need.
DepositPhotos.com is the source of this image.
10. Strive for a Higher Salary
You may clip coupons all you want, but if you don't make enough money to pay your expenses, you won't be able to save enough money to retire early and follow your interests. For many individuals, finding out how to make more money in order to save more money will be a critical step toward financial independence.
You may raise your income in a variety of ways. First and foremost, consider strategies to increase your pay for the work you now have.
Many people ask for a raise or greater responsibilities at work, or talk to their bosses about developing a career path that leads to a better wage. Earning more money today will allow you to put more money aside for your future requirements.
DepositPhotos.com is the source of this image.
11. Think about secondary hustles
As previously said, active enterprises may qualify as side jobs – modest work projects that might aid you in your quest for financial independence. Consider starting a "side hustle" or finding another means to supplement your income while working full-time. As an independent contractor, you might look into the gig economy as a way to boost your regular income. This may aid in the accumulation of retirement savings or additional earnings to invest in stocks, bonds, and other instruments.
DepositPhotos.com is the source of this image.
12. Establish Your Own Company
Starting a company allows you to establish your own full-time career. Starting a company comes with its own set of hazards, but a successful venture may create riches and pave the route to financial independence. Business owners have the option to stand away at any time and choose new management to operate their company. Building and selling a profitable small company may also help you achieve financial independence.
DepositPhotos.com is the source of this image.
13. Keep an eye on your cash flow
Cash-flow management may help you grow wealth by keeping track of your income and avoiding late payments on expenses. Debt service refers to borrowing money and having enough cash on hand to meet any needed interest and principle payments. You may use a cash-flow management strategy to pay off your loan commitments sooner, bringing you closer to financial independence.
Maintaining a good budget necessitates keeping track of your financial flow. If you don't know how much you're spending in each area, you can't make a budget that you'll be able to keep to.
simpson33/ istockphoto is the source of this image.
14. Cut costs as much as possible
Buying goods you don't need might drain your savings and make achieving financial independence more difficult. By lowering your expenses, you may maximize your savings. This does not imply that you give up your right to "life, liberty, and the pursuit of happiness," but it does imply that you embrace frugality when it makes sense.
SolisImages / istockphoto contributed to this image.
15. Stay within your financial means
Living within your means is one of the financial literacy lessons. As previously said, having a large amount of debt might make it very difficult to achieve financial independence. Borrowing money makes sense when it helps you achieve your objectives, but purchasing items you can't afford is almost always a nightmare.
Deposit Photos provided the image.
16. Think about opening a savings account.
Financial independence is defined as having enough money or savings to live comfortably and to your delight. Opening and keeping a savings account will help you get in the habit of saving while also introducing you to the notion of earning money on top of your money.
Savings accounts yield income, and a high-interest savings account might assist you in your quest for financial independence.
Monkeybusinessimages/istockphoto is the source of this picture.
17. Take into account 401(k) retirement contributions
Contributions to a 401(k) retirement plan are an option for employees. A 401k is a sort of employer-sponsored tax-deferred retirement plan from which you may begin taking assets without penalty after you reach the age of 59 12. Building a 401k account may help you prepare for a future when financial independence is a reality.
fizkes/istockphoto/fizkes/istockphoto/fizkes/istockphoto/fizkes/istockphoto/
The Remainder
Living life to the fullest may need a level of financial awareness. Paying bills, paying regular costs, and maintaining a budget may be taxing, but putting money aside and building wealth can bring much-needed relaxation.
More information is available at:
MediaFeed.org syndicated this story, which first appeared on SoFi.com.
Financial Tips & Strategies: The tips provided on this website are of a general nature and do not take into account your specific objectives, financial situation, and needs. You should always consider their appropriateness given your own circumstances. External Websites: The information and analysis provided through hyperlinks to third-party websites, while believed to be accurate, cannot be guaranteed by SoFi. Links are provided for informational purposes and should not be viewed as an endorsement. SoFi Invest The information provided is not meant to provide investment or financial advice. Investment decisions should be based on an individual's specific financial needs, goals and risk profile. SoFi can't guarantee future financial performance. Advisory services offered through SoFi Wealth, LLC. SoFi Securities, LLC, member FINRA  / SIPC  . SoFi Invest refers to the three investment and trading platforms operated by Social Finance, Inc. and its affiliates (described below). Individual customer accounts may be subject to the terms applicable to one or more of the platforms below. 1) Automated Investing—The Automated Investing platform is owned by SoFi Wealth LLC, an SEC Registered Investment Advisor ("Sofi Wealth"). Brokerage services are provided to SoFi Wealth LLC by SoFi Securities LLC, an affiliated SEC registered broker dealer and member FINRA/SIPC, ("Sofi Securities). 2) Active Investing—The Active Investing platform is owned by SoFi Securities LLC. Clearing and custody of all securities are provided by APEX Clearing Corporation. 3) Cryptocurrency is offered by SoFi Digital Assets, LLC, a FinCEN registered Money Service Business. For additional disclosures related to the SoFi Invest platforms described above, including state licensure of Sofi Digital Assets, LLC, please visit www.sofi.com/legal. Neither the Investment Advisor Representatives of SoFi Wealth, nor the Registered Representatives of SoFi Securities are compensated for the sale of any product or service sold through any SoFi Invest platform. Information related to lending products contained herein should not be construed as an offer or pre-qualification for any loan product offered by SoFi Lending Corp and/or its affiliates.
Prostock-Studio/ istockphoto is the source of this image.
MediaFeed has more.
fizkes / istockphoto / fizkes / istockphoto / fizkes / istockphoto /
AlertMe
Related Tags
freedom sofi
index card financial advice
financial freedom book