Brian Dean is the founder of Backlinko, a digital marketing blog. His business has grown to be one of the most successful online publications around with over 400K visitors per month. But how does he do it? This article discusses that story and offers some insights into what makes for success on your own entrepreneurial journey!
Brian Dean is a digital marketer and blogger who has been in the industry for over 10 years. He's created some of the most popular blogs on the internet, such as Backlinko. What's The Story?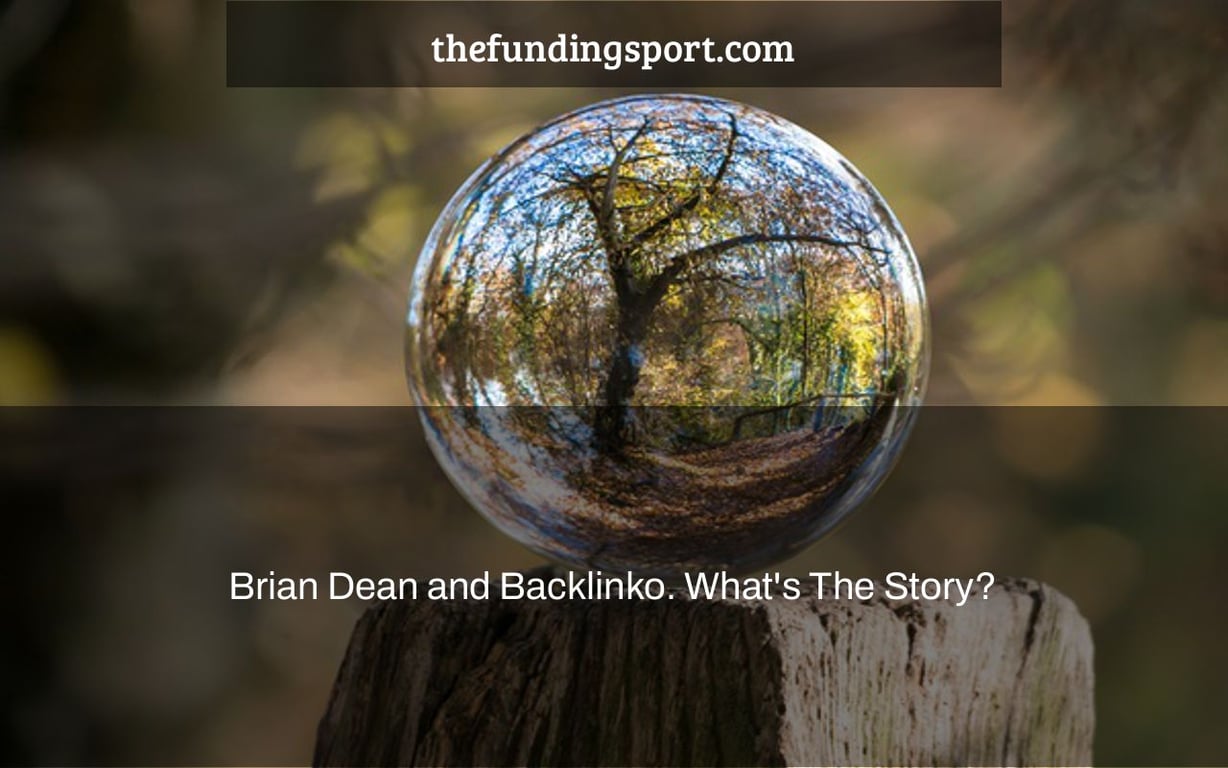 You've been following Brian Dean for a long and are curious as to how he gets money.
You may also be curious about the amount on a cheque he got from Semrush.
That's correct. Brians' website Backlinko was bought by Semrush after a decade of ownership. This occurred in the early years of 2022.
What's the story with Brian Dean and Backlinko, though?
What is the purpose of Brain Dean's website? Wasn't it?
What was his source of income? (and how does he make money)
Is there any way to find out how much Brian was paid?
What is Briand Dean's next move?
We'll address all of these questions, plus maybe a few more, in the next post.
Disclaimer Please note that I am not a Backlinko member or affiliate. This review is based on public-domain research and material. Any findings or suggestions are only personal ideas that may or may not apply to all people or circumstances.
Brian Dean: Who Is He?
Briand is the creator of the Backlinko website.
If you've ever done any SEO research or wished to learn how to rank well in search engines, the odds are you've come across the page.
Many people consider Brian to be an SEO expert, but he disagrees. And, in general, the title Guru is definitely overused.
But this post isn't about how to define a Guru…
Brian, on the other hand, understands how to utilize SEO, and because to his hands-on approach, he was able to go from studying to being an SEO coach.
But where did it all begin?
A little backstory
He received his master's degree in nutrition from the University of Rhode Island. The plan was to continue studying and get a Ph.D.
(Fortunately, this did not occur since, as Brian puts it, "he despised it."
He made the decision to work in New York City. It was in 2008, and he was travelling to New York when he got a call from the employer stating they couldn't recruit him because of the growing financial crisis…
So Brian's life took a new turn, and he drove to his parents' home.
He was a bum for a time, he remembers… However, while "doing nothing," he began reading Tim Ferriss' The 4-Hour Workweek: Escape 9–5.
Brian discovered that there was more to life than a 9-to-5 job, and that he could start his own business.
Well, he didn't win the jackpot straight immediately, and he had a rough start.
Brian's first five ventures all failed.
Result?
-> These were just learning lessons.
Of course, failure is painful, but it just indicates that something was not effectively handled, constructed, or set up. It doesn't rule out the possibility of success.
To be more precise, several of his websites did not perform well over time, owing mostly to the Google Algorithm modification.
When his website was struck by the Core upgrade in 2010, his traffic plummeted. Brian was back at stage 1 despite not being aware of the use of so-called Black Hat SEO methods.
Allow me to digress a little bit on the Google Core Update:
You're undoubtedly aware that Google modifies its algorithms every day, with the fundamental adjustments occurring once or twice a year.
This is what your website appears like when it doesn't generate rich content.
Traffic may decrease by 70% (or even more), and getting it back on track requires a lot of effort.
That website is in the MMO (Make Money Online) area, which is one of the most competitive. (It's also because it's one of the most profitable.)
So, if you want to enter into internet marketing (or even affiliate marketing, which is regarded the easiest method to get started (earning online), you are welcome to do so.
However, please do your homework and devote a few days to studying your finest specialty, or even a micro-niche.
You may be interested in the following:
The more precise your topic, the better your chances of ranking highly in search engines.
I squandered over a year before deciding on my specialty. Despite the fact that I was already a member of an educational platform that stresses the necessity of selecting the right specialization. (Unfortunately for me, I was a poor student.)
Sorry for the digression, but I suppose this is an excellent illustration for anybody who believes it is simple to enter into the internet marketing industry (SEO).
To be clear, if you want to build a website and see returns in 6 to 10 months, you shouldn't start with the MMO niche.
Returning to Brian:
Brian ended up working with Neil Patel on a minor project.
Neil Patel is a name I'm sure you've heard of. My opinion is that you must have, and Google Trends confirms this:
(At a later point, we'll discuss Google Trends.)
How did Neil become involved in all of this?
Neil responded to Briand's chilly email.
Brian claims that:
"Send an email to everyone you respect and like his work."
As a result, Neil tasked Brian with some minor tasks, such as video editing. Despite the fact that it was something he had never done before, he learned a lot.
The moral of the story: Do whatever it takes at first.
Brian, who is a positive person, did not lose up and wanted to learn more about SEO.
He learnt how to generate outstanding content in 2012, stuff that demonstrates to others what works and what doesn't.
All of this information may still be seen on his blog, Backlinko. This site is dedicated to the practical side of SEO.
A Few Words about Brian Dean's Private Life
Brian was able to travel extensively because to his online lifestyle.
He spent around two years travelling across Southeast Asia, seeing Hong Kong, Bangkok, and other cities.
He traveled to Europe and resided in Berlin for a time before settling in Lisbon, Portugal in 2019.
However, he is not a well-known online marketer (probably like John Reese used to be, or Frank Kern.) If you haven't heard of Backlinko, you've probably never heard of Brian.
This is fantastic; he can now wander anywhere he wants without being disturbed. (This is a personal message).
What Is Backlinko and How Does It Work?
Brian founded the website Backlinko in 2013. He decided to start a blog on SEO, oblivious to the fact that the industry was already crowded at the time.
It was maybe a foolish approach, but he was able to pull it off because of that naivety.
Brian's knowledge on Backlinko was unique compared to what others had to give. He was able to open up about his successes and defeats.
Nobody said anything about what didn't work; everyone was just showing off. However, they were adamant about not disclosing their plans.
As a result, he sought to fill that need by conducting case studies. What specific websites should one visit in order to accomplish X. And what not to do to stay away from the Y.
The Backlinko website is well-liked by its audience, and as a result, it has a high domain authority (or domain ranking).
It scored above 90 on a 100-point scale.
What about Neil Patel, though?
At the time, it's likely that someone named Neil Patel was offering the genuine value of what works and what doesn't in terms of free SEO advice.
Brian, on the other hand, took care to generate some unique material, and therefore the backlink did stand out.
And I personally follow both, but I like Brian's approach for some reason.
Despite the fact that his website is jam-packed with content. So densely packed that I had to read the piece twice to completely appreciate what was being said.
Perhaps it's just me. But it's clear that each piece of material took a lot of time and effort to create. Behind the scenes, there was a lot of research to be done;… It will almost certainly take considerably more work to write it all down in a thorough manner.
In other words, the Baclinko blog is completely devoid of fluff.
Which of the two do you prefer?
Please keep in mind that this is not a beauty pageant.
My question is, which approach do you value more? Please let me know by leaving a comment below.
YouTube Channel of Backlinko
Brian Dean is the name of the channel.
It was made on the 14th of January, 2013.
A little aside:…to put everything in perspective, what also occurred on January 14th, 2013
On January 14, 2013, Daniel Day-Lewis earned his second Golden Globe Award for Best Actor at the 70th Golden Globe Awards.
Ok. Back to the grindstone.
Brian Dean's YouTube channel has 45 videos but almost 14 million views (an average of over 300,000 views per video).
The most recent video was released on July 20, 2021, although the channel still has 1,400 weekly followers.
What Is the Purpose of Backlinko? – Backlinko Strategies
Backlinko sprang to prominence as a resource for anybody interested in learning about SEO.
It contains a wealth of real-life material, including case studies.
The Skyscraper Case Study is one of the most well-known strategies.
Another intriguing and beneficial strategy for improving ranking and position was to reach out to the 404 on other pages.
What exactly is it?
Allow me to quote straight from the article:
"The method of creating backlinks by replacing links to 404 pages with a functioning connection to a target website is known as broken link building (also known as dead link building)."
So, you're writing a piece on coffee machines, and while doing research, you come across a website that lists the greatest coffee machines. However, there is a broken link inside the article (404).
You contact the content author and say, "Hey, this isn't working." Here's a piece of work I did that may serve as a good alternative.
Your website now has a new legitimate backer thanks to the content creator's inclusion of your link on his website.
What is Backlinko's revenue model?
Brian had an agency in the past, but he no longer wanted to do so.
As he was setting up Backlinko, he saw that there was no meaningful SEO training available. As a result, he resolved to make one.
It was dubbed SEO That Works, and it quickly became the company's flagship course. Several times, the course was improved and re-launched.
Aside from those, there were additional classes:
Public relations on the internet
How to Make a Course
YouTube promotion
The price of the course varies from $1,000 to $6,000. Isn't it somewhat pricey?
But how valuable was this course in the past? Imagine what one can obtain for the expensive course if there is so much fantastic content available for free on Backlinko.
When it comes to earning potential, the quantity of traffic is critical; the website has roughly 500,000 unique visitors every month. It received 650K per month at its height.
Assume that just 0.1 percent of visitors paid $1,000 for the course. The revenue would be in the neighborhood of Let's say that only 0.1% of visitors did purchase the $1,000 course. The revenue would be about $0.5 million..5 million.
Please keep in mind that the course was only offered a few times every year.
However, this provides us a sense of how profitable the website has grown and why Semrush opted to buy it.
Backlinko was acquired by Semrush.
Brian received an email asking if he wanted to sell it "out of the blue."
He had been asked about it previously, but he had declined since it was his kid. It's also a great business concept since it's not stressful.
Brian was also working on another project called Exploding Topics not long ago.
Managing both became a challenge.
As a result, the email (seen above) arrived at a good moment.
What was Semrush's payment?
It is kept private. Because they are public enterprises, no confidential information may be disclosed.
However, since public companies are required to display their numbers, it will be known. In the year 2023, let's assume.
However, it was most certainly in the seven figures. Do you have any other details?
Please let me know in the box below this article's comment section.
Brian Dean's net worth is unknown.
The estimated Brian Dean's net worth is unknown. is not really known. And why it should be.
You may discover amounts ranging from $5 million to $25 million.
As previously stated, his primary source of revenue was the sale of his course. I'm sure you've noticed that his website is free of advertisements, which is really amazing.
That implies (at least in my opinion) he really wants to provide value, since based on the traffic Backlinko received, he could easily have made $15,000 per month simply from advertisements.
Brian's Dean Net Worth might be about $10 million after the transaction (which was seven figures).
That's fantastic.
He has slowed down recently, although he is still quite engaged with his new endeavor called. Exploring Topics is a collection of articles that explore a variety of subjects.
This new endeavor isn't quite as successful as Backlinko, but it has a lot more potential, and traffic is continuously increasing.
It'll happen shortly. Beginner's SEO crash course
Are there any new projects in the works?
Brian and Joshua's New Project: Exploding Topics
Brian and Joshua are also co-founders of the Exploding Topics initiative.
What is the theme of exploding?
I suppose you're acquainted with Google Trends.
Google Trends examines the popularity of Google's most popular searches in various places.
To put it another way, you input a query and receive some results.
Imagine having a gadget that provides you with fresh ideas, something you were previously unaware of. And that's what Exploding Topics does: it presents data on something you're unfamiliar with.
So you look through the data and say, "I had no idea that existed."
It's very cool.
What is the purpose of it?
It is beneficial to investors (in general – for start-ups).
People who are interested in content marketing Trending keywords that are not yet competitive
Conclusion
So there you have it. That's Brian's story of how he went from learning about SEO to teaching SEO to eventually selling his "baby" to a major firm like SemiRush.
The beautiful part about it is that both maintain a positive connection and the goal is to work together.
Backlinko is still up and running, as you can see, and will most likely remain so for some time.
What are your thoughts? Do you want to master SEO and become a great internet marketer?
It takes knowledge and expertise, but with the right niche selection, or, to be more precise, a micro-niche, and basic SEO abilities, you may expect to earn a full-time income in less than ten months.
Full-time revenue is defined as net income that enables you to earn more than you do now and ultimately quit your 9-5 job.
Do you want to learn how to build your own website and optimize it properly?
Let me know in the comments area below if you're interested in anything; I may have something for you.
Mike, thank you for taking the time to read this.
Brian Dean is a well-known internet marketer who has been teaching people how to generate backlinks for their websites. He has also been featured on the show Shark Tank. Reference: brian dean linkedin.
Related Tags
brian dean instagram
brian dean facebook
backlinko blog
brian dean email
backlinko youtube